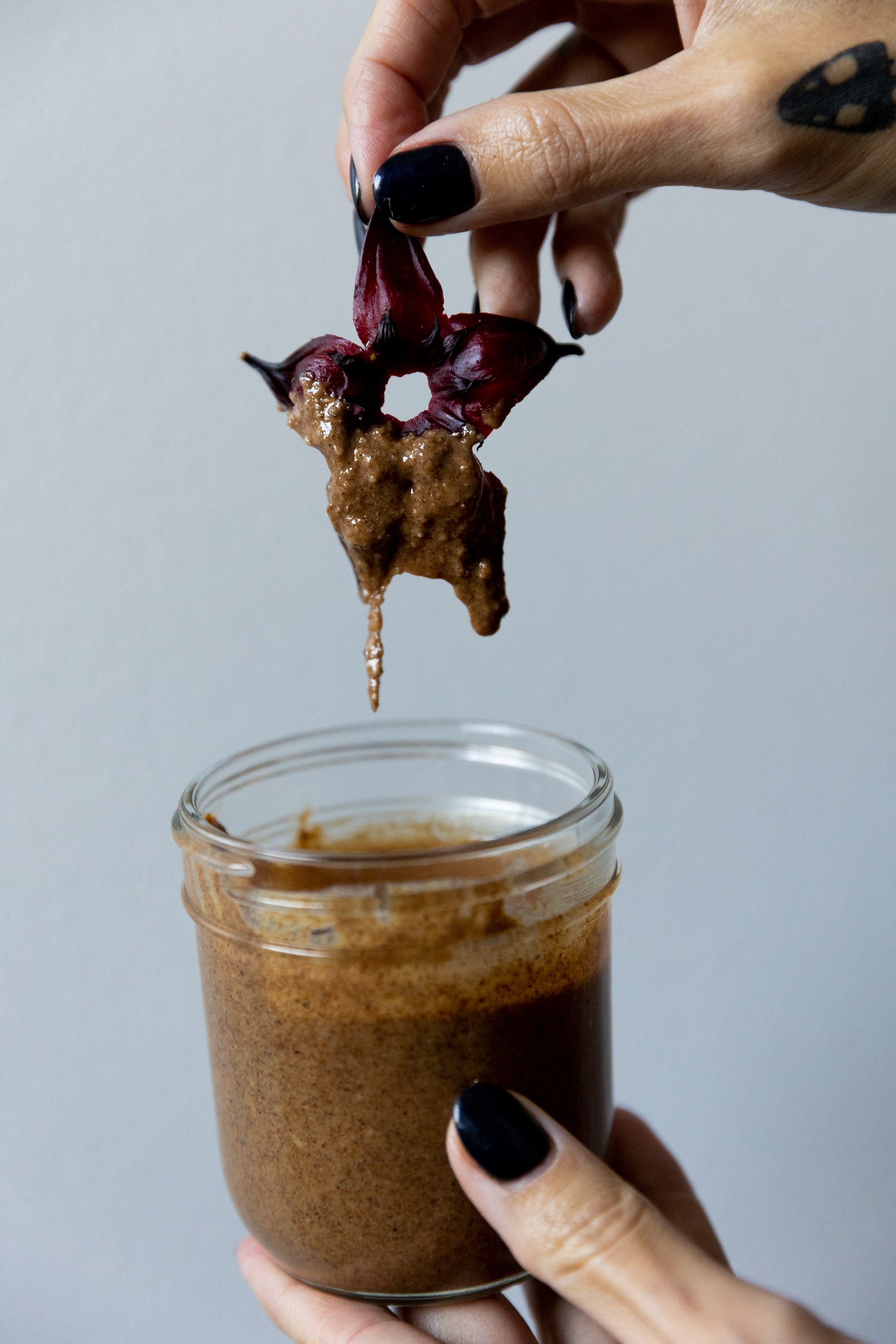 *HOLIDAY* RAW VANILLA CARDAMOM ALMOND MACA MACA
Regular price
Sale price
$26
Unit price
per
Sale
Sold out
Raw macadamia and almond nut butter with holiday spices of cardamom vanilla and ginger. A pure pot of anti-inflammatory gut healing gold. Luxurious mouthwatering mindbody fuel. Spoon spread smother smear smack-lips. Super satiating self care. Simple. !!HOLIDAY SPECIAL ~~ GET IT WHILE WE'VE GOT IT!!
What
Mindfully made from omega-3 superstar raw macadamia nuts, raw almonds, MCT oil, cardamom, vanilla, maca root, ginger root, and pink Himalayan salt. Shelf life is 4-6 months unopened and unrefrigerated (stored in a cool, dry, shaded place). Just put it in the fridge after opening and it'll last just as long, or keep at room temp and finish within 3 months!
How / When / Why
Parasympathetic facilitation ~~ healing and recovery and regeneration and growth. Truly perfect for anytime of day – sustains energy, regulates blood sugar, and curbs cravings. Super satiating self care. Start with it in the morning on your hot porridge or in your smoothie, or with your coconut yogurt and fruit, and keep it as a throughline of insanely healthy fats and protein throughout your day. Finish with a spoonful in the evening (with a SUPERFREE raw cacao truffle, if you're that lucky, read: smart) and sleep peacefully knowing that the looming blood sugar spike from dinner won't wake you up in the middle of the night. Perfect to have with you on reserve wherever you go – eat it on its own by the spoonful, spread it on sliced fruit or your favorite toast or a caramelized sweet potato or any platform you so desire, use it as a creamy base for a savory dressing or sauce, make pesto with it, or open up a Medjool date and fill that bb up to the brim (our absolute favorite, see our dry goods for the best dates you've ever had). Better yet, blend 2 spoonfuls into your coffee in the mornings to soften the harsh caffeine influx on your systems and sustain a calm steady energy. Do the same to your tea in the afternoon or evenings with an adaptogenic mushroom superfood blend (coming soon) and ease into the ease. Permission to take a beat. To be in your body. And on and on. You truly can't go wrong.
Choosing a selection results in a full page refresh.
Opens in a new window.